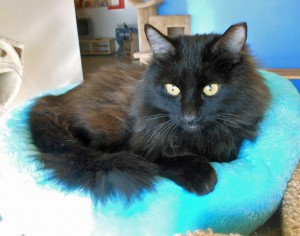 Meet Lionel Thunderpaws! He is a handsome 1 year old Maine Coon mix with stunning silver accents throughout his fur! He was abandoned outdoors when his former people moved away, and his life was in jeopardy when a coyote was spotted inhabiting the area.
Lionel is so grateful to have a roof over his head. He is a shy kitty and is seeking a serene home environment and a patient adopter who will give him time to get acclimated. He loves being petted, he gets along well with other cats, and he has impeccable manners.
Won't you consider a gentle guy who has been overlooked because of his shyness? Lionel will be forever grateful for a chance at having the life he dreams of!
Check out Lionel's YouTube video!